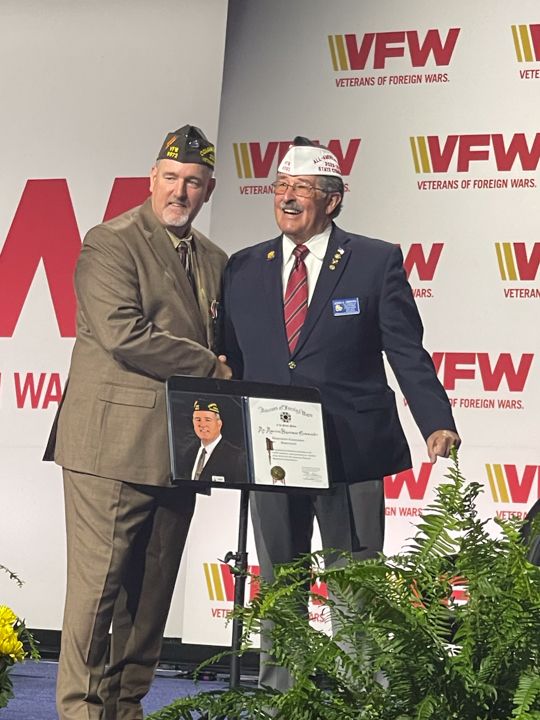 KANSAS CITY, Mo. (July 24, 2023) — The Veterans of Foreign Wars (VFW) is pleased to announce John Griffith has achieved All-American status as a Department commander. To achieve this honor, Department commanders must meet strict requirements in their role to include exceptional leadership, authentic accomplishment in membership growth and strong support of VFW core programs.
John Griffith, a gold-legacy life member of Post 4093 in Carleton, Mich, is one of 48 VFW Department commanders worldwide to earn the title of All-American commander for 2022-2023. His hard work played an integral role in helping the organization successfully remain focused on its service to veterans.
"Commanders like John Griffith are a fine example of VFW leadership, and it's their hard work and dedication to the mission and values of our organization that has rightly earned them this great honor," said VFW Membership Director Rick Butler.
"I want to thank each and every member of the VFW State of Michigan," Griffith said. "This is your award for all the hard work you've done this year. I may have led the VFW in Michigan, but the impact our members made in their communities is credit to them. I am so proud to have led this organization last year."
Griffith, 72, served in Vietnam as a military police sentry dog handler in the U.S. Army, and retired after 31 years of service in 2001. He then went on to become a special agent with the U.S. Treasury Department of Alcohol Tobacco and Firearms and has been a part of the VFW since 1990.
The Veterans of Foreign Wars of the U.S. is the nation's largest and oldest major war veterans' organization. Founded in 1899, the congressionally chartered VFW is comprised entirely of eligible veterans and military service members from the active, Guard and Reserve forces. With 1.5 million VFW and Auxiliary members located in nearly 6,000 Posts worldwide. The VFW is dedicated to veterans' service, legislative advocacy, and military and community service programs. For more information visit vfwmi.org
Article by Sarah Daniels
VFW Department of Michigan Director of Media & Marketing